* Proud to be the Number 1 choice
More students choose A-Levels at KGV than anywhere else in Sefton (Data Source: Vector 2020-21)
More Sefton students choose A-Levels at KGV than any other Sixth Form in the North West (Data Source: Vector 2020-21)
The widest choice of A-Level subjects in the area
A fantastic choice of BTECs and mixed study programmes
Prestigious destinations
99% of our students secured a place at their first choice University.
An inspiring place to study
We are delighted to be a Centre of Academic Excellence
2022-2023 Term Dates
Our confirmed term dates are now pubished on our website. Here's a handy PDF to download to your device or print and stick to your fridge!
2022 - 2023 Term Dates.pdf
Starting in September | Your next steps
1. Online Registration
If you have applied to join us in September 2022, you should now have received an email containing a link to our online portal to confirm your details and courses.

Just click the link and fill in the details – it's quick and easy!

This secures your place and speeds up the process for you later on.
2. Enrolment Day
You will soon receive another email with the date and time for you to come into college, enrol and collect your college ID badge (this will be either 25 or 26 August).
3. First day at college
Freshers' Day is 5 September; your first official day as a KGV student. Find out all about these key dates on our Events page.

Events
Congratulations Class of 2021 - What Fantastic Results!
Olivia Hersey
A* Classical Civilisation
A* English Literature
A* History
Destination: Oxford University to study English Language & Literature
Matteusz Muszynski
A* Mathematics
A* Further Maths
A* Physics
Destination: Polimi University Milan to study Space Engineering
Erin Jones
A* Philosophy
A* Psychology
A Chemistry
Destination: Leeds University to study Philosophy, Psychology & Scientific Thought
Milo Johnson
A* Chemistry
A* Computer Science
A* Further Maths
Destination: York University to study Computer Science
Victoria Fenner
A* History
A* Philosophy
A English Literature
Destination: St Andrews University to Study History
Scott Mackin
Distinction*
Distinction*
Distinction* in Business
Destination: Expanding his Theatre and Events Business; Moonlight Events
The Class of 2021 Celebrate their Success
Meet our Class of 2021 as they celebrate their fantastic results and share what they loved about KGV.
Parent of Victoria Fenner

Please pass on my thanks to all the teaching and support staff at KGV. My daughter Victoria attended for the last two years and has just received excellent exam results. We are so pleased she came to you at 16, she has thrived in your environment and learned how to work independently, with the support of her excellent teaching and pastoral staff. Thank you all so much!
Thank you to all of the staff at KGV who worked extra hard this year to support the A Level students. We are so appreciative of all that you have done.
It's been a very exceptional two years but throughout the time KGV has been really supportive… and now Jess has achieved her dream of going to do veterinary medicine, which is fantastic.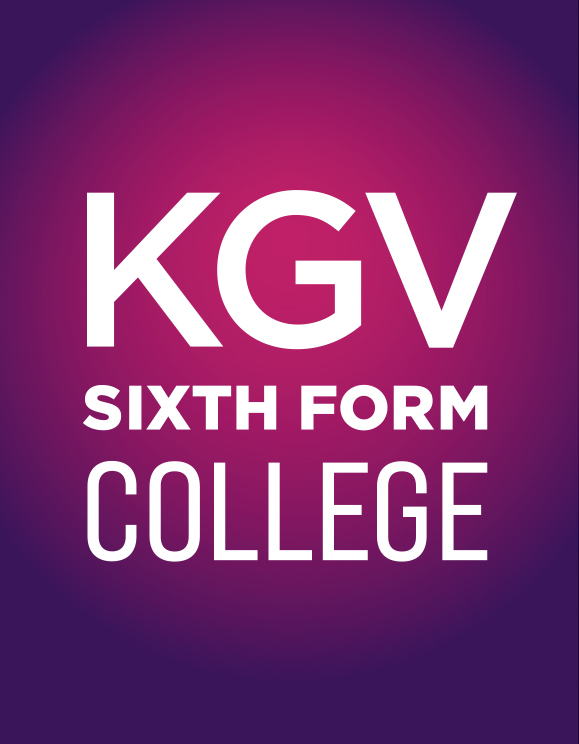 Why KGV Sixth Form College?
Choosing KGV Sixth Form College means you'll not only be choosing from a wide range of subjects and making use of our superb facilities, you'll also be at the centre of everything we do. We are committed to helping you realise your potential and build your future as our fantastic results and prestigious student destinations show.
What to expect as a student at KGV
STUDENT LIFE
Find out how to prepare for your time at KGV and how to get the most out of your college experience.
KGV XTRAS
Enhance your future career, develop work related skills and extend your subject knowledge with our exciting extra-curricular opportunities.
KGV SCHOLARSHIPS
Our KGV scholarship programme is designed to reward our highest achieving students.
We have a dedicated support and progress team here to help with all support issues you may have.
Summer term 2022
Half Term Week
Monday 30 May - Friday 3 June 2022 (inclusive)
Autumn Term 2022
Half Term (2 Weeks)
Monday 24 October - Friday 4 November (inclusive)
Spring Term 2023
Half Term (1 Week)
Monday 13 - Friday 17 February (inclusive)
Summer Term 2023
Half Term (1 Week)
Monday 29 May - Friday 2 June (inclusive)

Quick links for starting College